These two, portable, FC400W and FC440W model, 70L evaporative air conditioners are ideally suited to a variety of purposes.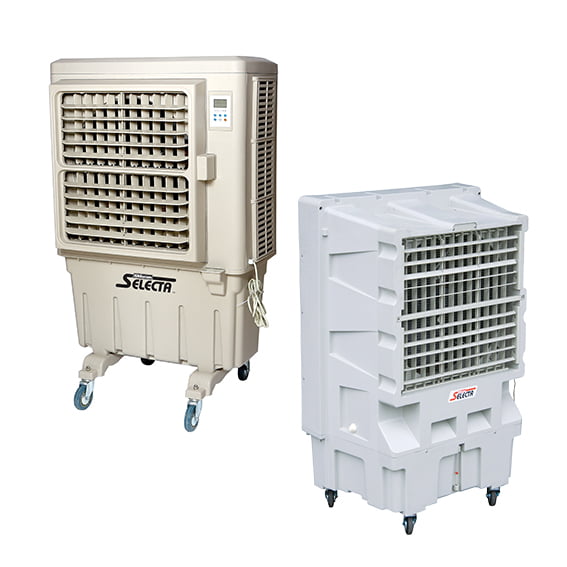 Powered by a quiet running, 230V electric motor, robust construction they are ideal for shearing and farm machinery sheds, workshops, garages, retail shops, patios, outdoor events and marquees.
The 400W model produces a maximum air flow of 9000 cubic metres an hour while the bigger 440W model, puts out 12,000 cu metres an hour. The smaller model is effective over 30-50 sq metres and the bigger one 70-100 sq metres.
A water level indicator shows when water levels are low. An electric level sensor shows when no water remains. The 70L capacity internal tank can then be filled with a garden tap or bucket. A tank level ball valve switches the water off when the water tank is refilled. The unit can be operated without water as a high-volume air fan.
Water consumption ranges from 10-20 litres an hour. A drain plug allows for the tank to be emptied.
A swing function provides for air to be directed over a wide arc. Another feature is an automatic start/stop timer function timer. In addition, the three-speed fan speed and all functions can be adjusted with a remote control or the control panel on the cooler.
Four swivel wheels, two with locking function allows for the unit to be moved around easily.
For more product or technical information, click HERE or alternatively call 0508 SILVAN (0508 745 826) or email [email protected]