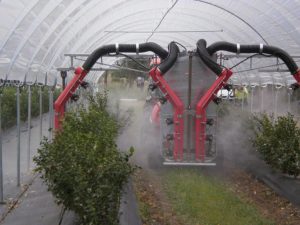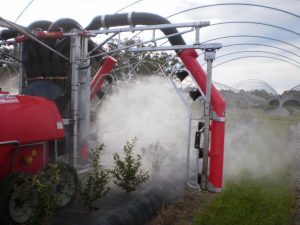 In an exciting development, for New Zealand blueberry growers in particular, Silvan New Zealand is close to launching a specially customised, two-row sprayer for exclusive use in tunnels.
According to NZ product specialist Dean Cocks, Hamilton the area planted to blueberries in tunnels is increasing annually due to the ability to extend the normal growing season for fruit and better control the quality compared to that grown in the open.
There was currently no adequate unit available to meet the requirements for spraying in tunnels, Mr Cocks said.
After requests for support, Mr Cocks took an existing Silvan 1000 litre, Supaflo trailed Oktopus sprayer, predominantly used for blueberries outside tunnels, to trial it in a tunnel with one of the bigger emerging growers Miro Orchards in Whakatane in the Bay of Plenty.
Miro has 10 hectares of blueberries in tunnels with plans to double that area next season and add a further 8ha the following year.
The Miro Orchards trial involved spraying both sides of a single row inside a tunnel. The single-sided unit penetrated through to the other side of the canopy, which satisfied the grower the sprayer was going to achieve the results required. "The results were very impressive," Mr Cocks said.
But the downside was that he was unable to ensure the spray from the unit was getting to all areas of the blueberry bush along the side nearest the support for the tunnel.
What was gleaned from the trial in agreement with the grower was that a two-row, 1000L trailer sprayer, was needed and to be sufficiently narrow to fit the close rows required in tunnels.
Mr Cocks subsequently discovered that such a unit had been previously built in Australia but he decided to press ahead and modify the existing 1000L Oktopus sprayer.  A Hamilton engineering firm JP Marshall was engaged to do this.
"Technically all I'm doing is taking it from a single row to a double row sprayer," Mr Cocks said.
The main changes involve fitting it with a galvanised boom, which is closer to the canopy to get better coverage to all the bush leaves and adding hydraulic rams that open it in and out to cover two close rows at a time. The same sized fan and nozzles are being retained.
Once complete, and the restrictions due to the COVID-19 virus are eased, the plan is to demonstrate the unit on-farm and take orders for it.
Mr Cocks said there was sufficient justification to invest in developing a sprayer specifically designed for tunnels with Miro and other orchards turning to grow blueberry and other horticultural crops such as strawberries in tunnels.
"There are more and more crops going to be grown inside tunnels so we need to be versatile in coming up with options," he said.
Production of all future blueberry tunnel sprayers for use in NZ will be at Silvan's Melbourne-based manufacturing plant in the suburb of Keysborough.
"There are at least five units required in New Zealand immediately, Mr Cocks said.
For smaller blocks of up to 4ha, there are plans to also produce 500L units.